Rick is excited about our expansion into Viera and the addition of Dr. Walters to the practice.  Rick has an extensive past of professional careers which include banking, lending, practice administration, and residential and commercial real estate. He grew up in Atlanta, GA, and San Juan, PR.  He went to boarding high school at Tallulah Falls, GA and Berry College in Rome, GA. He moved to Florida in 1984 and resides here with his beloved wife, with family nearby. Together they have an active lifestyle of golfing, walking and playing with their grandchild.  
Director of Business Development
Valerie started working with SCO at the beginning of 2019.  She has worked sales and marketing positions in Brevard County's healthcare industry since 2006.  Valerie is happy to represent Dr, Pefkaros, Dr. Woods and Dr. Walters and their solid team. She is also excited about SCO's expansion to the Viera area and more growth in the pipeline.  Born and raised in Wisconsin, Valerie has traveled to Florida her entire life and feels like it's home away from home. She made Brevard County her permanent place of residence in 2001. When not working, she enjoys baking, music and keeping busy with her children, friends and beloved rescue dog  
Katy was born and raised in Orlando and moved to Brevard County 7 years ago to be closer to family.  She has been working with Dr. Pefkaros as a technician for the last 6 years. Katy loves interacting with our patients and gets satisfaction knowing she's helping them to achieve great vision.  She keeps busy on the weekends going to the beach, surfing, and traveling to new places.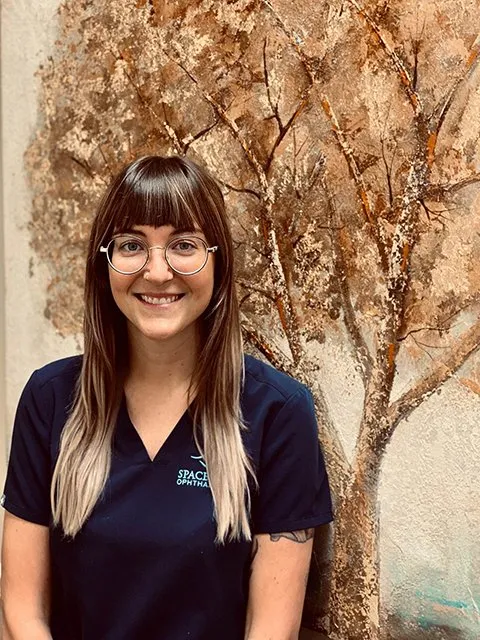 Sarah's role is personal assistant to the physician.  Sarah performs documentation in the patient charts, gathers information for their visit, and partners with Dr. P to deliver the most efficient patient care.  She loves being a part of improving our patient's quality of life through better vision. Sarah grew up in Sarasota and currently lives in Orlando, where she recently bought her first home.  When not at work, she enjoys good food, traveling, and raising her cat.  
Rachel is cross-trained in multiple positions here at SCO.  Her current primary role is scribing for Dr. Woods in the Titusville location.  Rachel is actively attending school to get her Associates in Science degree in Human and Social Services.  Born and raised a Floridian, Rachel loves to travel. She also enjoys listening to music and dancing. Her and her husband, Chad, get their exercise by having weekly dance parties in their living room! 
Mallerie has worked side by side with Dr. Pefkaros for almost 7 years.  In her Office Manager role, she enjoys interacting with patients and building lasting bonds with them.  She lives by her favorite quote, "Be the energy you want to attract." Mallerie was born and raised in Titusville and grew up close to her family, who have also been in this area since the '70s.  When not managing SCO, Mallerie enjoys playing with her dog, renovating, soaking up the Florida sunshine and traveling to new places with her family.  
Julie obtained her Florida license in 1998.  She is nationally certified by the American Board of Opticianry and National Contact Lens Examiners.  Julie very much enjoys her social interaction with the patients, as well as helping them with all of their vision needs.  Her childhood was spent in Ohio but she's been a Brevard County resident now for 30 years. When not assisting SCO patients, Julie fills her time with family and friends, enjoying good food and traveling to new places. 
Anna is one of the first smiling faces you'll see when you come for an appointment in our Titusville location.  She has been in the healthcare field for 9 years. Anna started as a pharmacy technician. She is a big animal lover and has two cats and a dog.  She enjoys spending time with family, shopping and traveling with her husband.  
Miranda was born in Rockledge, FL and raised in Port St. John.  She attended Space Coast High School and has played basketball her entire life.  Miranda received her Medical Assistant certification and is fitting right into our SCO family.  Recently a newlywed, she enjoys spending time with her husband and their two dogs.
Shalanda has a past working in banking and for non-profit organizations, as well as medical reception for an internal medicine practice.  Shalanda is excited to join us here at SCO. She loves the way the doctors are so hands-on and involved with patients. A Native Floridian, Shalanda attended Brevard Public School system.  When not working, she enjoys spending time with family and friends, reading, traveling and working on her very own non-profit organization (Women On The Rise Inc, II) events that help our community thrive.  
Jennifer is a Medical Secretary. She works in both Viera and Titusville offices, now, doing check-in and check-out. She's also been cross-trained to be an ophthalmic tech. Jennifer was born and raised in Florida. She has been in the ophthalmology field since 2014. Prior, she worked in the banking industry. When she's not fulfilling her role as Medical Receptionist for SCO, Jennifer enjoys family time, skating, football, and watching movies.
Jill has been an ophthalmic tech/scribe since 2013 and will continue with these duties here at SCO.  Jill was the child of a Navy family and has lived in Virginia, Maryland, Minnesota, Florida, and North Carolina. She has made Florida her home now since 2011, enjoying beachside living with her husband and daughter.  Besides a degree in Spanish and Sociology, Jill has recently earned a certificate in Medical Billing and Coding. She also enjoys the beach, reading, cooking and traveling.